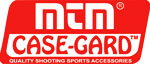 50 Round Shell Tray 10, 12, 16 or 20 Gauge
The MTM shotshell tray hold 50 shells each. These are perfect for storing reloads; they are built durable and are stackable to make for a good space saver in your reloading area.
12ga pictured. Click on additional images to view picture of 10ga shell tray.

Contains one 50 round tray

Comes in 10, 12, 16 or 20 gauge

Trays fit into the SD-100 and SF-100 & also in the discontinued S-100's.
*They are not designed for the SH-100's*