BPI Steel Shot (10 lbs.)
We demand that our steel shot is only the highest quality. The finest steel shot loads can only be made only of premium (dead soft) iron, which is then annealed to assure the softest possible steel pellet. Our steel pellets our polished to perfection; they are almost perfectly spherical with no pitting or hard edges. We apply a special rust inhibitor to insure maximum storage life.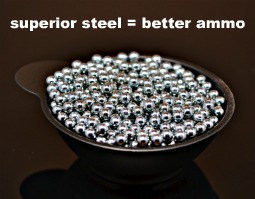 Because our shot is produced to a higher standard it will flow more freely through reloaders and pattern performance is better. Better quality steel shot brings more energy to the target, resulting in greater overall lethality. All of our steel shot meets or exceeds all U.S. and European cartridge industry standards for non-toxicity, softness, and quality. Approved by the U.S.F.W.S. for non-toxic use.
LOAD DATA: The Status of Steel (14th ed.) is newly revised with almost 700 loads, from 10ga to .410. BPI's ballistic lab produces more high-performance steel shot data than anybody else. Period. If you need a special load, we've got it for you.
Shipping Discounts: Take advantage of our powerful outbound shipping discounts - especially at quantities of 200 lbs. and more. Just call our customer service team at 1-888-2-RELOAD.
Volume Pricing and bulk packaging is available for commerical and industrial use. For industrial ballast material purposes you may be interested in our low-cost alternative Cast Steel Shot.
| | | | | | | | |
| --- | --- | --- | --- | --- | --- | --- | --- |
| Steel | | approx. | approx. | approx. | Pellet | Pellet | Pellet |
| Shot | U.S. | (inch) | (MM) | grains/ | Count: | Count: | Count: |
| Part# | Size | Diameter | Diameter | pellet | 3/4 oz. | 7/8 oz. | 1 oz. |
| #SHF | #F | .220" | 5.59 | 11.22 | 29 | 34 | 39 |
| #SHTT | #TT | .210" | 5.33 | 9.51 | 35 | 40 | 46 |
| #SHT | #T | .200" | 5.08 | 8.41 | 39 | 46 | 52 |
| #SHBBB | #BBB | .190" | 4.83 | 7.29 | 45 | 53 | 60 |
| #SHBB | #BB | .180" | 4.57 | 5.99 | 55 | 64 | 73 |
| #SHB | #B | .170" | 4.32 | 5.34 | 61 | 72 | 82 |
| #SH1 | #1 | .160" | 4.06 | 4.29 | 77 | 89 | 102 |
| #SH2 | #2 | .150" | 3.81 | 3.53 | 93 | 109 | 124 |
| #SH3 | #3 | .140" | 3.56 | 2.86 | 115 | 134 | 153 |
| #SH4 | #4 | .130" | 3.30 | 2.30 | 143 | 166 | 190 |
| #SH5 | #5 | .120" | 3.05 | 1.85 | 177 | 206 | 236 |
| #SH6 | #6 | .110" | 2.79 | 1.40 | 234 | 273 | 312 |
| #SH7 | #7 | .100" | 2.54 | 1.09 | 317 | 369 | 422 |

Product Type: Non-toxic steel shot; USFWS approved.
Load Data: Status of Steel and Advantages manuals
Specs: Sizes #F (.220") through #7 (.100"); (industry tolerances apply)
Packaging: Duck cloth bag, sewn seams. 10 lbs. per unit
Density: Approximately 7.85 grams per cubic centimeter

International origin